Everything sorted by artist, then album/single.
1 Liter of Tears


Title: 1 Liter of Tears Soundtrack
Tracks:
1. 1 Litre no Namida -Main Theme-
2. Hurdle wo Koete
3. Anata ga Oshiete Kure Tamono -Ai no Theme-
4. Yasashisa ni Tsutsumarete
5. Anji
6. Sunadokei
7. Kimi he no Long Pass
8. Rakujitsu
9. Shinobiyoru Byouma
10. Furi Aoge ba Aoi Sora
11. Namida no Imi
12. Senkoku
13. Mou Utae Nai
14. Te wo Nobase ba Anata ga
15. Kunou no Senrits
16. Nagare Yuku Jikan
17. Sagashi te Goran
18. Nigiyaka na Danran
19. Toumei na Sekai
20. Seimei aru Kagiri -Sub Theme-
21. Only Human (Piano Version)
22. Konayuki (Piano Version)
23. Only Human (Cello Version)

Tsuchiya, Anna


Title: Anna inspi' NANA (BLACK STONES) - rose
1. rose
2. Lovin' you
3. Ah Ah

Crystal Kay

Title: Call Me Miss
Tracks:
1. Baby Girl
2. Kirakuni
3. Koi ni Ochitara
4. Hero
5. Telepathy
6. KTK
7. I Know
8. Nobody but You [mirror]
9. Together
10. Fly to You [mirror]
11. Kitto
12. Two As One
13. Happy Life
14. Namida ga Afurete Mo
15. Kiss Orchestra

Ito, Yuna

Title: Faith/Pureyes (2nd Single)
Catalog Nr: SRCL-6233
Publisher: Sony Records
Released: March 1, 2006
Price: 1,223 Yen (Tax-in)
Tracks:
1. Faith
2. Pureyes
3. Faith (Instrumental)
4. Pureyes (Instrumental)

Koi Kaze


Title: Koi Kaze - Futari Dakara ED Single

Loveless


Title: Loveless Original Drama CD 01 - Brainless


Title: Loveless OP & ED single

Nakashima, Mika


Title: Nakashima Mika - Best Album

Title: Blood+ ED 2 Single - Cry no More [Nakashima Mika]

Nana - music inspired by the manga & movie music


Title: LOVE for NANA ~ Only 1 Tribute ~
Descirption: A tribute album by various artist for the Nana manga by Yazawa Ai.

Title: Nana 707 Soundtracks (limited edition)
Description: Soundtrack to the Nana Anime.

Title: Nana's Song is My Song
Description: Music inspired by the manga, Nana, by Yazawa Ai.
PASSWORD: www.fengwuhuanjing.com
For those of you who had downloaded this previously from this site, I forgot that my orignal files had a password requirement for 3 of the songs, I've just uploaded a new version where you don't need the password, it is a RAR file so you'll need winrar to unzip it.


Title: Punk Night for NANA
Description:

"This is a collection of punk songs that might have been played in Nana. It is to recreate the atmosphere in Lifehouse. Tracks included songs by Sex Pistols and various artists. Most of these songs are covers by real bands. You can buy it from Amazon Japan."
-description taken from Seven!
Olivia


Title: Olivia inspi' REIRA (Trapnest) - a little pain
1. a little pain
2. tears & rainbows
3. let go
Orange Days


Title: Orange Days Original Soundtrack
Size: 108 MB
Thanks to Chau2k5 for uploading this
Paradise Kiss

Paradise Kiss Original Soundtrack Booklet
Paradise Kiss Original Soundtrack - Disc 01
1. Tommy February6 - Lonely in Gorgeous - 4:04
2. leer - 2:34
3. antrieb - 2:15
4. moderumba - 4:03
5. yukari geht - 1:18
6. schneller - 1:46
7. technotoris4 - 5:02
8. Tommy February6 - HEY BAD BOY - 4:01
9. familie - 1:28
10. belastung - 2:48
11. verzweiflung - 2:00
12. es schwankt - 1:48
13. Sodom - 1:36
14. besorgt - 3:09
15. unruhig - 2:51
16. Gomorrah - 1:35
17. wahnsinn 3 - 2:45
18. U-mat - 6:52
19. bali - 2:19
20. Kriechen - 1:19
21. neuron - 2:27
22. klassische Musik - 2:06
23. morgen - 1:17
24. LANGSAM BLUT - 3:30
25. Weidervereinigung - 3:06
26. Franz Ferdinand - DO YOU WANT TO - 3:36
Paradise Kiss Original Soundtrack - Disc 02
1. Prologue - 1:10 2. Kibun ga Yokute Nani ga Warui - 1:40
3. NO NO FUTURE - 3:04
4. Fuminshou no Debu - 3:30
5. Extra dialogue-1 - 0:18
6. Alien - 3:32
7. My little girl - 4:03
8. Shounen Knife - 4:46
9. MC - 0:28
10. Kikoenai Uta - 4:32
11. RRPP - 4:23
12. Extra dialogue-2 - 0:35
13. Anarchy in the Kobayashi - 2:39
14. Fujirokku - 3:00
15. Kimi no Yoru, Boku ni Dake Kurenai ka - 5:49
16. Extra dialogue-3 - 0:16
17. Romantic na Speed de - 3:58
18. Epilogue - 1:53
Remioromen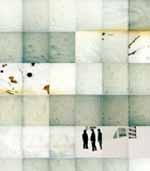 Title: Konayuki Single
Tracks:
1. 3-9 with Quartet
2. Konayuki
3. No Border

Copyrights & Credits